An incredible event for wine lovers with the escort service
A must for all wine lovers and gourmets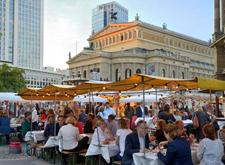 The "Rheingau Wine Festival (Rheingauer Weinmarkt)" is one of the most incredible culinary events in Frankfurt/ Main. Every year in September, Rheingau´s winegrowers present over 600 wines and sparkling wines alongside the well known "Fressgass" mall. Here, wine lovers will find everything that the heart can desire, from summer wine to exquisite vintages. The event has been established here over decades, the first wine market took place in 1978. Meanwhile, the popular market has over 400.000 visitors every year. Nevertheless, the organizers renounce a wide framework program: The wine has priority. Visitors should have the chance to get into a direct conversation with the local wine growers and to ask questions about their favorite wines. This year, the market takes place from 2nd to 11th of September. This is a great opportunity to take your High escort service Frankfurt lady with you.
Frankfurt, a multifarious cultural center on the Main
Beside many top events, Frankfurt/ Main offers a big amount of tourist attractions you can visit throughout the whole year, Culture fans, for example, will like the Goethehaus, the Städel museum, the old opera or museum of modern arts. But also nature lovers get their money worth in Frankfurt. The palm garden, Frankfurt zoo and Grüneburg- park are perfect locations for a walk and pause. And last but not least, adventurous people also get what they want in the big metropolis: The Europe tower, the festival hall, the Fraport arena, the indoor ice rink, numerous swimming baths and much more. Surely you will never get bored in this megacity, particularly not with a charming escort lady on your side. We wish you a pleasant stay and hope that our advises could help you in all respects. We are not just well versed concerning sightseeing and events, but also sought out only the finest restaurants, hotels and shopping locations just for you. Due to our long lasting escort experience, we know our customer´s high demands in every sense – and we especially know how to fulfill them.
References for gourmets
The gourmet restaurant Sevres is located in the Grand Hotel "Hessischer Hof". It´s exceptional name is due to the special porcelain, manufactured at Sevres, a suburb of Paris. This can be seen in the entire restaurant and gives it a completely special ambience. But not only the interior decoration of Sevres is sensational, of course the cuisine offers a wide range of culinary specialties. An entrée, for example, is Picandou au gratin alongside a compote of cherry tomatoes, avocado and a salad of minced herbs or a trio of tuna with wasabi paste, soja and lemon oil. Followed up by exquisite main dishes like: Sole filet with fine leaf spinach and grenaille potatoes or black feathered chicken with girolle, green asparagus and Italian gnocchi. And as a culmination, there are several desserts, topping off the perfect gourmet offer, like crème brulee with apricots and almond brittle ice cream. But those things are just a small extract of the great, noble menu card. No matter which menu you prefer, at Servres you have the guarantee for a perfect evening accompanied by a perfect escort.
Shoppingcenter in Frankfurt
Go shopping in one of the most popular malls at Frankfurt. At the North West Center you´ll find 150 stores, which offers shopping lovers definitely everything their heart can desire: Fashion, living, lifestyle, beauty, healthcare, accessoires and much more. The great gastronomic offer, consisting of fast food shops, bars and restaurants invites you and your charming escort for a relaxed break.
Feel comfortable ab initio!
After a great day at Frankfurt, you deserve a little break and an intimate togetherness with your beautiful escort lady. A perfect wellness location is the hotel Jumeirah, located in the heart of the metropolis. The hotel´s own spa area "Talise" offers 400 square meters of pure relaxing, a luxurious wellness oasis. Two saunas, a rest area and a complete massage and beauty offer are waiting for guests. The hotel´s rooms and suites are exquisite and have a classic, elegant atmosphere – of course the technical aspect is cutting edge!
Now some hot sightseeing advices:
Maintower – Offers a fantastic view
Senckenberg museum – One of the greatest museums in Germany
Frankfurter Paulskirche - Neoclassicism architecture at the peak
Liebighaus – Experience extraordinary sculptures
Museumsufer – Over 15 museums are located here
Goetheturm – Old wooden watchtower
MyZeil – Shoppingmall located at the town center
Neuer Portikus – Modern art exploration
Nidda – This river ends at Frankfurt after flowing 90 km
Heilig-Kreuz-Kirche – Center of christian meditation and spirituality